Noahide News
http://serversiders.com/samliquidation.com
Samliquidation.com is the 506302:th largest site within .COM
Part
930
1-26-2010- 2007 AD of Our LORD Jesus the Christ the Creator
Talmudic Dragon Moon Calendar
Shevat 12, of Talmudic
Perpetual PURIM MURDER
5
770
their Babylonian times of their Babylonian Sumerian Doctrine and laws 5769
Ps:118:24: This is the day which the LORD hath made; we will rejoice and be glad in it.
The FINISH
of Iniquity unto desolation for them who Deny the Christ, Jesus the Lord.
And even more Perpetual Purim choose wars
Lets see now, who has pithed the anti-Christ Choose off this time, who gets to be the new anti-Shem-a-tick Haman?
http://www.israelnationalnews.com/News/News.aspx/135712
Yemen's Troubles Make it an Attractive Terrorism Center
(IsraelNN.com) Middle East security expert Yoel Guzansky says the West has not yet woken up to Yemen's increasing role in nourishing Islamic terrorism. Without Western pressure, he says, the dangers will only grow.
This expert is not saying to you that the Yemini's have had enough with their "Dual" loyalist" treasonous choose
Guzansky, a expert on Yemen and member of the Institute for National Security Studies (formerly the Jaffee Center for Strategic Studies at Tel Aviv University), told Arutz-7 that Yemen has long been characterized by grave poverty and inter-tribal hostilities. Other problems there include the inability of the regime to clamp down and enforce law and order throughout the country, and the intervention of both Iran and the West in its internal affairs.
"Yemen is nearing the status of a failed nation," Guzansky says. "The intense security tensions in the south, the growth of Al-Qaeda, and more – all this emphasize the failure. Yemen is a torn country, and amidst the splits and breaks, it is easy for the Taliban and its ilk to use it as a center."
or the choose and their freemason Marakans
"Western pressure on the terrorist organizations in Pakistan and Afghanistan actually push them to Yemen, which has become much more convenient for them," Guzansky observes.
Israel Could be Threatened
there you have it in a nutshell

"The chaos in Yemen – the piracy nearby, the violence, extremism, etc. – will become a threat to Israel in the near future," he warns.
So Please get them crazy Noahide "Goyim" Marakan's to "Keel em All" in ah ha name ah ha Judeo Jayssssssssoose
"We know of some 60 million weapons in Yemen, with no supervision. There could be even more. Some of them are smuggled into Sudan, and from there to Hamas."
read that again.......slowly...then ask your self if it is not 66 million
Guzansky feels that the United States has not yet understood the correct approach in dealing with Yemen: "The U.S. prefers to deal with 'terrorism' while neglecting the other issues that will lead to the worsening of the present situation. Obama Administration officials don't want to hear about sending forces to Yemen, saying they would rather deal with 'terrorism.' This won't work."
The main responsibility, however, lies upon Yemen's government, headed by President Ali Abdullah Saleh, Guzansky says: "If it doesn't take action, particularly in light of the end of Yemen's oil reserves and dwindling of its water reserves, the situation will deteriorate even further. But it appears that he's only interested in nepotism. Democratization and other necessary reforms will apparently only occur under Western pressure."
Guzansky, If I had your little weasel neck in my grubby hands at this moment I would squeeze all of your GOD Forsaken BS right out of your wretched Chooish ears. FIGHT YOUR OWN SATANIC WARS !!!!!!!!!!
WAKE UP MARAKA !
I use Maraka, cause that is the only way that "W" could pronounce it. After all you all wish "W" could come back.
_____
Mystery Babylon Noahide Mother Harlot of the Chooish Earth
The Book of the Ancient & Accepted Scottish Rite

of Freemasonry (1884)

By: Charles T. McClenechan

21st Degree: Noachite (or Prussian Knight)
The All seeing Eye of the Chabad Men-Whore-a
http://www.crownheights.info/

Shluchim, Bochurim and Mekurovim Farbrenged in Jacksonville Florida with Rabbis Nochum Kurinsky and Mendy Lieberman.

______

They control Choose York

http://www.crownheights.info/
ALBANY, NY [CHI] — During Mesivta Oholei Torah's Saratoga Shabbaton, Shluchim Rabbi Yisroel & Abba Rubin welcomed the Hanhala and Bachurim in the New York State Legislative Chamber. Assemblyman Gordon issued them a special proclamation how the Legislature changed NYS law to the Gemara Bava Basra "Chazaka Sheyesh Imah Taana." Rabbi Rubin later Farbrenged about the Horaha in Avodas Hashem.
_______
added 1-30-2010
The Jewish people - as a whole - will become its own Messiah. It will attain world dominion by the dissolution of other races, by the abolition of frontiers, the annihilation of monarchy and by the establishment of a world republic in which the Jews will everywhere exercise the privilege of citizenship.

In this New World Order, the children of Israel will furnish all the leaders without encountering opposition. The Governments of the different peoples forming the world republic will fall without difficulty into the hands of the Jews. It will then be possible for the Jewish rulers to abolish private property and everywhere to make use of the resources of the state.

Thus, will the promise of the Talmud be fulfilled, in which is said that when the Messianic time is come, the Jews will have all the property of the whole world in their hands."

--Baruch Levy, Letter to Karl Marx, 'La Revue de Paris', p.574, June 1, 1928
Mt:8:12: But the children of the kingdom shall be cast out into outer darkness: there shall be weeping and gnashing of teeth.
________
The Choose who laugh all the way "From" the bank
http://www.pagetutor.com/trillion/index.html
What does one TRILLION dollars look like?
All this talk about "stimulus packages" and "bailouts"...
A billion dollars...
A hundred billion dollars...
Eight hundred billion dollars...
One TRILLION dollars...
What does that look like? I mean, these various numbers are tossed around like so many doggie treats, so I thought I'd take Google Sketchup out for a test drive and try to get a sense of what exactly a trillion dollars looks like.
We'll start with a $100 dollar bill. Currently the largest U.S. denomination in general circulation. Most everyone has seen them, slighty fewer have owned them. Guaranteed to make friends wherever they go.
A packet of one hundred $100 bills is less than 1/2" thick and contains $10,000. Fits in your pocket easily and is more than enough for week or two of shamefully decadent fun.
Believe it or not, this next little pile is $1 million dollars (100 packets of $10,000). You could stuff that into a grocery bag and walk around with it.
While a measly $1 million looked a little unimpressive, $100 million is a little more respectable. It fits neatly on a standard pallet...
And $1 BILLION dollars... now we're really getting somewhere...
Next we'll look at ONE TRILLION dollars. This is that number we've been hearing so much about. What is a trillion dollars? Well, it's a million million. It's a thousand billion. It's a one followed by 12 zeros.
You ready for this?
It's pretty surprising.
Go ahead...
Scroll down...
Ladies and gentlemen... I give you $1 trillion dollars...
Notice those pallets are double stacked.
...and remember those are $100 bills.

So the next time you hear someone toss around the phrase "trillion dollars"... that's what they're talking about.

_____

How to Murder those Pesky Christian "Goyim"

It

is our duty to force all mankind to accept the seven Noahide laws, and if not—they will be killed." (Rabbi Yitzhak Ginsburg, Ma'ariv, October 6, 2004) ...


http://www.jpost.com/Home/Article.aspx?id=167212
Shapira's distinction between Jewish, gentile blood
By MATTHEW WAGNER
29/01/2010 08:44
Rabbi Yitzhak Shapira, who was detained for questioning by the Shin Bet (Israel Security Agency) in connection with the burning of a mosque in Yasuf, a village near Nablus, is head of the Od Yosef Chai Yeshiva in Yitzhar, and is a disciple of Rabbi Yitzhak Ginsberg, who lives in
Kfar Chabad.


Ginsberg is considered by scholars of modern Jewish thought to be an original and important thinker in the fields of hassidut and Kabbala, (Satan's Talmudic Pharisaic Hasidic sorcery)

though he is best known for his extreme views on the fundamental and inherent differences between Jews and non-Jews, which some say smack of racism.
There is no racism here, for Judaism is a religion unto Satan and Christ believing is of GOD the Father in Heaven

Shapira, who grew up in Kedumim, learned in religious-Zionist yeshivot, first in Merkaz Harav's High School and later in Merkaz Harav's yeshiva for older students.

His brother, Rabbi Yehoshua Shapira, is the head of the Ramat Gan Hesder Yeshiva.
Yeshiva's are schools to teach Satanism as per the Babylonian Talmud

Under the influence of Ginsberg, Shapira has deviated from mainstream religious Zionism. It can be detected not only in his dress - the long black Prince Albert frock coat and black hat favored by Chabad Hassidim - it is also apparent in his thought.

While religious Zionists tend to emphasize the importance of cooperating with secular Zionists (Aholibah) in the building and protection of the Jewish state, Shapira and his students (Aholah Dan) are concerned with maintaining what they consider the purity and authenticity of Jewish teachings and practice.
Sorcery, Blasphemy and MURDER

For instance, the students at Od Yosef Chai are more likely to avoid performing military service out of concern that they will be forced to follow orders that contradict Halacha.

While religious Zionists are primarily concerned with the issue of evacuating settlements, the students at Od Yosef Chai also see IDF ethics as problematic because they are based on "western" or "Christian" morality that equates Jewish lives with those of non-Jews.

In sharp contrast to the Goldstone Report, which criticizes the IDF for purportedly committing "war crimes" against Palestinians during Operation Cast Lead, Od Yosef Chai's criticism of the IDF is totally different.

IDF battlefield ethics are seen as immoral not because they allow for the killing of innocent bystanders but because they force Jewish soldiers to needlessly endanger themselves to protect gentiles.

The measures taken by the IDF to protect non-combatants, such as using ground forces to weed out terrorists embedded in highly populated civilian areas so as to minimize collateral damage, are viewed by Shapira as downright evil, because they lead to the needless injury or death of Jewish soldiers.

In his preface to the controversial book Torat Hamelech [The King's Torah], authored by Shapira and Rabbi Yosef Elitzur, Ginsberg points out the tremendous need to illuminate the fundamental differences between Jew and gentile "at a time when we are obligated to conquer [the land of Israel] from our enemies so that we can act as we need to in the spirit of Torah and so that we can strengthen the spirit of the nation and its soldiers."
preparation for their "chosen" one the Murderer from the beginning

Some of the guidelines mentioned at the back of the book in a section entitled "Conclusions - Chapter Five: The Killing of Gentiles in War," include the following: "There is a reason to kill babies [on the enemy side] even if they have not transgressed the seven Noahide Laws [to believe in God, not to commit idolatry, murder, theft or adultery, to set up a legal system, and not to tear a limb from a live animal] because of the future danger they may present, since it is assumed that they will grow up to be evil like their parents...."

In all of its 230 pages, the book makes no mention of Arabs or Palestinians. However, a group of moderate religious Zionist groups calling themselves the "Twelfth of Heshvan," named after the Hebrew date of prime minister Yitzhak Rabin's assassination, are concerned that the book's teachings will not remain purely theoretical.

The have petitioned the High Court to order Attorney-General Menahem Mazuz to confiscate the books and arrest its authors for incitement.
For Hate Crimes against Humanity? ain't gonna happen
____
"Illuminated Masters" self appointed Chabad of Dan of Satan's Sinhedrin control Brazil
http://www.henrymakow.com/brazil_dominated_by_masonic_je.html
Brazil Dominated by Masonic Jews
January 30, 2010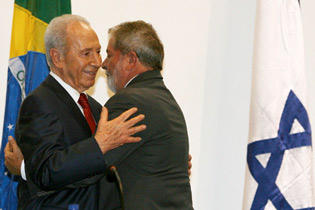 (There is real love in Lula's bear hug of Shimon Perez, President of Israel)



by "Toth"



Dear Mr Makow:

The situation depicted in the report from Marcos, although well written, lacks the obvious: the role of the Jews in the situation.

Where are they on the report? Nowhere. It seems the wolves are on vacation from Brazil. Which is far, very far, from the truth.

In fact, the very "so called" Brazilian Federal Republic (as it is called) was founded by and controlled by Jews through their agents, the Freemasons who infiltrated the courts and the Brazilian armies. These forces together with local farm owners (all Freemasons) were the responsible for the fall of Monarch in Brazil, the best government the country had in its history and "the facto" builder of the nation as it is.


Upon seizing the reins of government, the new Noachide leaders will move quickly to implement a full agenda of reform. ... Full support will be given to Israeli forces to reinvade PLO-controlled areas, with military assistance offered where necessary. Jewish courts ... will be granted full legal sovereignty over Jewish citizens within each country, who will no longer be subject to the authority of gentile courts.

The pre-existing Noachide judges and courts will replace the existing court system of each country, and the legal code will be drastically rewritten to conform to halacha.... .... And law and order will be fully restored through the establishment of internal security measures, again in accordance with Torah law. — Committee for Israeli Victory

[Editor's note: Officially, Jews make up only .05% of the population of Brazil, roughly 100,000 Jews in a population of 192 million.]


What is very, very curious on the report written by Marcos is the fact that almost 98% of what he wrote in it is based on the ideas of the journalist called "Olavo de Carvalho", who is in fact the best journalist in Brazil (the best as Brazil can have nowadays).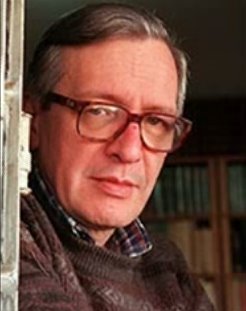 There would be nothing wrong with Olavo de Carvalho (left) and his work, except the fact that he is actually a longtime Zionist supporter. And before this (or perhaps at the same time) he was a well-known Communist (Aholibah) activist in the 60's that (imagine) lived in Romania for 10 years and also received a prize from the Romanian government during the 80's. Now Olavo de Carvalho says he is a Catholic (Catholicos of Sinhedrin) (and once before he said he was a "radical ecumenist" (Noahide advocate) on one of his books and have a very in deep knowledge of the procedures on the Muslim religion) and that he is a remorseful Communist although he never mentions the role of the Jews in communism. Even in Romania, where almost 90% of the great regime commanders and assassins where in fact Jews, he never knew anything about them.
Nevertheless he is so arrogant he says he is the "only" real philosopher that still remains in Brazil and his great ambition or mission is to prepare a "new generation" of Brazilian intellectual "thinkers" that (you guessed) will save Brazil from the "darkness of ignorance", as much as historical Jews said about Europe when the Catholic faith was in rule.
Olavo de Carvalho and Reinaldo Azevedo (the latter is a blogger from Veja magazine) are the only "so-considered" rightist voices that still remain on the Brazilian press. And they are limited to the space of the Internet. 99,999% of what is published in Brazil is Communist-Jew influenced. In fact, even Russia never saw a situation like this. When the Bolshevist-Jew revolution came, there where thousands of independent and rightist intellectuals that should be killed or sent to the Gulags by the "Soviet-Jew" (Sofiet Choose) regime. I say "Soviet-Jew" because that is the reality of that regime as it is very well documented in such books as "The Plot against the Church" by Maurice Pinay which was never refuted.

A NATION OF ILLUMINATI JEWISH PAROTS

Marcos in his report says that Lula is an "Illuminati" parrot but forgets to say that everyone in Brazil (consciously or not) became an Illuminati-Jew zombie because Jews control the Federative Republic and the Central Bank since its birth. Jews control the press and Jews control the TV since a long time ago. No one can escape from this kind of mind cage. It is much more brutal and much more mind boggling than Russia ever was.
To take the real scenario, the maximum of a "rightist figure" imaginable in Brazil is represented by the figures of Olavo de Carvalho and Reinaldo Azevedo, both Zionist supporters and liberal thinkers.
I guess this is far from being a "product of by chance or coincidence".
Olavo de Carvalho past speaks for itself: and now he lives comfortably in the United States (State of Virginia) with his entire family, something unimaginable for a small Brazilian journalist (as he intends to pass his image of a "small and independent journalist persecuted by the angry communists in Brazil").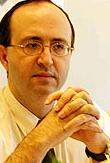 Reinaldo Azevedo (left) is a worker of a Jew publication (namely "Revista Veja", an anti-Catholic resonance chamber since its birth) and lives (you guessed) among Jews in a Jewish and very rich neighborhood at São Paulo city. And he appears to defend some homosexual ideas too. Of course, as Olavo de Carvalho, he is also a "remorseful" past Communist.
So, what is the game with this two, we can say, past or even actual "comrades"?
Based on my long time private study of this two actors, I can say both are illusionists on the stage trying to lure people (the few ones that could make some kind of resistance to even just denounce the Jewish dominion in Brazil) from the truth. They probably are Jew supporters because they work for the Jews. Reinaldo Azevedo is as clear as daylight a Zionist supporter that pretends to be a Catholic (nobody never saw him at any mass).
Olavo de Carvalho, besides being an open Zionist Jew (Talmudic) supporter that pretends to be an "in depth scholar of the Communist method to denounce it to his Christians brothers", is also a Freemason supporter (as he says according to his ideas: Freemasons worked together with Christians to build the western civilization, as long as Jews of course. He also use the term "Jew-Christian civilization" to describe it, as if Jews and Christians where brothers and good friends working as real colleagues to build the society, a lie so absurd it would make the Popes from the middle ages to squeeze on their tombs from hearing such a blasphemy).
What these two actors hide from their poor (although many times well intentioned) readers is that the Jews are the founders and the controllers of socialism. Karl Marx was a Jew and was trained by a Jew named Moses Hess as were 90% of the European socialist activists and intellectuals. They control the modern Republic through banking and usury.

Freemasonry is a well-known Jewish secret society working to seduce the upper class and richest Christians to help the Jews to "rebuild the Temple of Solomon" which in Talmud and the Cabala is described as "making the Jews the rulers of the peoples of the earth as God commanded," Of course, the only people who would benefit from rebuilding the "Temple of Solomon" again are, of course, the Jews.
Olavo de Carvalho and Reinaldo Azevedo try to lure people from the truth because they do not want anybody attacking the head of the octopus, just the tentacles. This a strategy Mr Pinay describes very well in his book.
In their hatred against the Church and Christianity, the Jews built such a sophisticated weapon that the only enemy one can see is the tentacle of the monster, not the beast in its entirely. So, if you are smart enough and you wake up against Communism you start fighting against Communists, not against those who actually feed the Communist tentacle. Did you see how the game works?

BRAINWASHED BRAZIL

That is the case for Brazil. After decades of Communist indoctrination (on schools, universities and the media) some Brazilians are starting to "wake up" from the "Matrix". But as soon as these well-intentioned Brazilians start to search the truth they reach just another tentacle of the beast. They start to fight against the Communist tentacle with liberal weapons, which are of course just another tentacle of the beast to smash any possible true Christian resistance against the Talmudists who are in fact the rulers and commanders of the banks, the media, the press, the Communists and the Freemasons.
Of course only divine intervention or a miracle can save the poor Brazilians (a goodhearted and Catholic devoted people fOR centuries) from being smashed by the Talmudists in the near future.
What this two comrades and Zionist supporters (Olavo de Carvalho and Reinaldo Azevedo) try to make now is to hide the Jews in the "Synagogue of Satan" from being even accused of responsibility as they were in Russia, trying to make people think Communism is just another political mistake or even a social or mental disease.
What Olavo de Carvalho says about the so-called "Forum de São Paulo" is true, which makes people think he is sincere and tries to alert people of the "imminent danger" which approaches in Brazil. What Olavo de Carvalho never mentions is that as long as Communists in the "Forum de São Paulo" play their role as a tentacle, Freemasonry is also playing together (Masonry functions as a kind of "strategic council" for the Brazilian armies from a long time) as another tentacle and liberals too (granting the socialists the space they need on the press, on the media and also with funds too.)
In fact, Lula's recent self-propaganda movie was entirely financed by "liberal" money from "friend" companies. How can the observer explain such a thing besides the fact that theses companies are all working together with the socialist-Jews to make the "image" of the "great nation's Messiah".
So, the inexplicable space and liberty that a traitor, subversive and dangerous organization such as the "Forum de São Paulo" had to act for such a long time is never explained to their readers. They try to figure out why these people are not just simply arrested and judged as criminals but they never get the answer. Why Lula never answer for their crimes? Why the armies and even the Church (or the Fifth Column in the Church as Pinay brilliantly writes) don't denounce and act against this villains?
The answer is: because it is written on the Talmud that Jews must never be judged against the acts and crimes against the gentiles because gentiles are not even considered human beings. That's why we never saw any Jew or Freemason being judged by their crimes against Christians.
Lula is a Freemason and I know a research was conducted in his genealogy to discover "Jew blood" in his family which was found on the past third generation. His grand-grand-grand fathers where Jews forcely converted to Catholicism, according to this research.
Beware of the jews are a race ruse, for they are no race but a religion unto Satan
Did you wonder why almost every Nazi official was judged and condemned while at the same time not even one miserable Communist-Jew was denounced by the so-called "International Courts" from their crimes against Christians? Not even in History as a science, if we can say actually exists such a real science that can be called "History" because it is entirely dominated by Jewry. What we know as "History" could be better called the "Jewish view on human past events".
JUDGERS NEVER JUDGED

Talmudists do not allow Jews or Jew-supporters (Freemasons, for example) to be judged because besides their common hatred against Christians and the Church and their common enterprise, they prefer to be the judgers and create their own Courts where the accused sentence's is already proclaimed aways: guilt. That's what was done in France by the Freemasons by the occasion of the French Revolution. In fact, their preferred hobby in the Soviet Union and notably in the western European satellites was to make "revolutionary courts" always controlled by Jews against Christians, of course. In Hungary, the "train of death" traveled through Hungarian nights spreading horror among Christians. From Mr Pinay's book, I can point:
(...)"In this government which for a time held Hungary in thrall, the chief of the Hungarian Cheka Szamuelly, besides Bela Kun, distinguished himself through countless crimes and plunderings. While the latter rode through the land in his luxury automobile (with the symbol of a large gallows mounted on the vehicle, and accompanied by his capable Jewish woman secretary R. S. Salkind, alias Semliachkay), the former traveled through Hungary in his special train and sowed terror and death, as a contemporary witness describes:
"That train of death traveled snorting through the black Hungarian nights; where it stopped, one saw people hanging from trees and blood which ran on the ground. Along the railway line naked and mutilated corpses were to be seen. Szamuelly dictated his judgments in his train, and whoever was forced to enter never lived to tell the tale of what he saw. Szamuelly lived constantly in this train. Thirty selected terrorists ensured his security. Selected executioners accompanied him. The train consisted of two saloon wagons, two first-class wagons, which were occupied by the terrorists, and two third-class wagons for the victims. In the latter executions were carried out. The floor of this wagon was stiff with blood. The corpses were thrown out of the windows, while Szamuelly sat comfortably in the elegant workroom of his compartment which was upholstered in rose-colored damask and decorated with polished mirrors. With a movement of the hand he decided over life or death. (...)
Do any Christians ever heard about this monstrous crimes on the so-called "History" books? No. What they are "taught" on the schools by the "teachers" is that the Catholic Church persecuted "innocent people" (sorceres, magy and witches like those that practiced the Cabala teachings) during the middle-ages. What they are "taught" on the schools by their teachers is that the most monstrous and imaginable crime ever committed in human history was during WWII by the Germans against the poor Jews. Do any Christians ever heard of Jews sentenced to death penalty on the so-called "International courts" by the crimes that murdered millions on Soviet Union or western Europe countries? Did Christians notice movies of the theaters talking about these crimes?
Did Olavo de Carvalho's readers have any line written from him denouncing the Jewry behind the scenes on Communism? Never.
Olavo de Carvalho is intended to pass an image of "Muslim expert". He wrote a book about the Muslim religion and received a prize on Saudia Arabia. So, why he is not also a "Talmud" expert too and explain to uneducated Christians what the Talmud says about our Lord Jesus Christ, about his holy mother, about Christians and the gentiles?
Because he receives money from the Jews in São Paulo as much as Reinaldo Azevedo does. He writes for a JewISH newspaper in São Paulo (namely "Diário do comércio", a kind of newspaper dedicated for the traders in São Paulo).
Do you see the trick?
A well studied and well educated man like Olavo de Carvalho is aware of this fact, of course. He is not sinning by ignorance: he is sinning because he is intended to lie and hide true and well intentioned Christians (especially the Catholics) from the fact that they are in imminent attack of a Jew mass murder revolution.
DISAPPEARING CHILDREN

Olavo de Carvalho never mentions the absurd number of children that simply "disappear" in Brazil. He mentions 50.000 deaths each year (which in fact can be even more), but never mentions the almost equal number of children "disappeared" each year: 40.000 "disappearances".
Why?
Because we know this children destiny: human sacrifices for pagan and satanic cults like those kept in secrecy by the Cabalists-Talmudists and the Freemasons for centuries. And the vast majority of this children "disappearances" happens at the capital's area: Brazilia. Curious fact, indeed.
That's why Brazilia is known as "the capital of the new spirituality" from the "new agers". Well: in fact there is nothing of "new" in this kind of "spirituality" as the Catholic Church knew it and fought against it sending this bastards to the stake for their monstrous and revolting activities for the social danger they represent.
That's why the Brazilian's Federal Police is now a secret and political police. Not just to protect the Communists and their coreligionists: but to guarantee to these sorcerers and race of vipers (as our Lord Jesus correctly said) that no one will ever take any notice about the destiny of this children and this satanic infanticide.
I guess this is, regarding the right proportions, as monstrous as any Communist defender or activist or even worst because a Communist activist can act as puppet by ignorance without noticing the facts behind Communism. But Olavo de Carvalho's sin is worst because he knows and he is aware and he is acting to lure people from the real enemy: the Jews and their coreligionists in Masonry, and the pagans that practice African black-magic sacrifices along the land.
That is the real face of the revolution being carried out in Brazil now.
May God help us all and have mercy of Brazil.
In Jesu Semper.

_______
Romans 10:4: For Christ is the end of the law for righteousness to every one that believeth.



5: For Moses describeth the righteousness which is of the law, That the man which doeth those things shall live by them.
6: But the righteousness which is of faith speaketh on this wise
, Say not in thine heart, Who shall ascend into heaven? (that is, to bring Christ down from above:)
Romans 10:4: For Christ is the
end of the law for righteousness to every one that believeth.
Hasidim and their Moshiach, that son of Perdition

7: Or, Who shall descend into the deep? (that is, to bring up Christ again from the dead.)
8: But what saith it? The word is nigh thee, even in thy mouth, and in thy heart: that is, the word of faith, which we preach;
9: That if thou shalt confess with thy mouth the Lord Jesus, and shalt believe in thine heart that God hath raised him from the dead, thou shalt be saved.
Not maybe

10: For with the heart man believeth unto righteousness; and with the mouth confession is made unto salvation.
11: For the scripture saith,
Whosoever believeth on him shall not be ashamed.

12: For there is no difference between the Jew and the Greek: for the same Lord over all is rich unto all that call upon him.
13: For whosoever shall call upon the name of the Lord shall be saved.
14: How then shall they call on him in whom they have not believed? and how shall they believe in him of whom they have not heard?
and how shall they hear without a preacher?

15: And how shall they preach, except they be sent?
not ordained by a state sanctioned 501 C3 institution of Satan's religion, BUT SENT BY THE FATHER
as it is written, How beautiful are the feet of them that preach the gospel of peace, and bring glad tidings of good things!
16: But they have not all obeyed the gospel. For Esaias saith, Lord, who hath believed our report?
17: So then faith cometh by hearing, and hearing by the word of God.
18: But I say, Have they not heard? Yes verily, their sound went into all the earth, and their words unto the ends of the world.
19: But I say,
Did not Israel know?
First Moses saith, I will provoke you to jealousy by them that are no people, and by a foolish nation I will anger you.
20: But Esaias is very bold, and saith, I was found of them that sought me not; I was made manifest unto them that asked not after me.
21: But to Israel he saith,
All day long I have stretched forth my hands
unto a disobedient and gainsaying people.

Romans 10:9
9: That if thou shalt confess with thy mouth the Lord Jesus, and shalt believe in thine heart that God hath raised him from the dead, thou shalt be saved.

10: For with the heart man believeth unto righteousness; and with the mouth confession is made unto salvation.

11: For the scripture saith, Whosoever believeth on him shall not be ashamed.
12: For there is no difference between the Jew and the Greek: for the same Lord over all is rich unto all that call upon him.
section 14 "The Protocols of the Illuminated Elders of Tzion"

section 16 "The Beast Has Risen"
Wall Street " The Mark" is Here

It has happened "War Declared upon and in America"

"All you ever need to know about their god and Qabalah"

ADDED Material 3-25-2004 Prophecy Unfolding

A Sincere Request to "Rapture" Teachers

Compulsory Constitutional Cremation

Homeland Security, "The Police State"

The Babylonian Talmudic Mystical Qabalah

How will they do it- " The false-christ"

"Summation" The beginning of sorrows has begun

Satan's Tales "Wagging the Global Dog"

"Satan's Plan", Protocols of Zion ( of course they will dispute it's authenticity)

I Witch, New One World Order Seal

Satan's Enforcers of Quaballah

The Seed of God or the Seed of Satan, Your choice by faith

I AM, the Revelation of Jesus Christ

National Organization Against Hasidic International Talmudic Enforcement

Where's Da Plane Boss, wheres da plane?

The Tarot Card Killer of Olam Ha Ba
The Federal Reserve, Fed up with the Fed?
The Protocols Today. Dispute this, Liars !
Letter to a friend "It's not the Jews Dummy"
The "Son's of the Synagogue of Satan"Chabad Lubavitch
The Chabad Satan Wall of Destruction
Columbia "The Queen of Heaven"
The Infiltration of the leaven "Jerusalem Council"
One World Religion Part 7 Religion Part 7
Obedient Ishmael Kislev 19, 5764
The Lord of the Ring, the Return of the Talmudic king
Changing the Time and the Laws
The Leaven of the Chabad Lubavitch Chassidim Pharisees
"Replacement Theology" of Judaic Talmudism
Eating Rainbow Stew with a Silver Spoon, underneath a Noahide Sky
Letter to Bob Jones and President Bush and all televangelist
Noahide News Part 76
ALERT ALERT ALERT
The Revelation of Jesus the Christ the LORD God and His Father
Noahide News Part 143 THE JEWISH RELIGION Its InfluenceToday
Noahide News Part 161
Noahide News Part 168
Alert ! Noahide News Part 169 Alert ! Alert ! false Elijah cometh?
Noahide News Part 170
Noahide News Part 190 Alert ! Alert! Alert!
Noahide News Part 197 Alert Alert Alert !
Noahide News Part 203Alert Alert Alert !
Noahide News Part 204 Alert ! Alert ! Alert!
Noahide News Part 220
Alert ! Alert!
Noahide News Part 222 Alert ! Alert!
Noahide News Part 224 Alert! Alert!
Noahide News Part 227
Noahide News Part 228 Alert! Alert! Alert!
Noahide News Part 230 Alert ! Alert!
Alert ! Alert ! Alert!
Terminated page
The Revelation of Jesus the Christ the LORD God and His Father
Part 340
Jesus said No to Noahide
Noahide News Part 606 RED Alert !!!!!!!!!!!!!!!!!
Noahide News Part 895 The Mark of the Beast, It is here !
Looking Back to 2004, Prophecy unfolding
Noahide News Part 899 antichrist