Prime Minister's Office stresses Israel has no intention of intervening in Gaza infighting. 'The recent developments there are very troubling," says senior State official. Jerusalem
considering separate policies for dealing with West Bank and Gaza
"Israel is very concerned and is monitoring the situation closely, but at this point has no intention of intervening," said a senior State official in Jerusalem on Thursday night.
_______
And BUT of Course your Talmudic Government is "Hard at work" cause it's "Haeerd Woerk" Maraka
http://www.ynetnews.com/articles/0,7340,L-3413190,00.html
US to continue training Abbas' guard
State Department spokesperson confirms that US will continue program to train PA's presidential guard, although training would likely move from Gaza to West Bank
WASHINGTON - The United States will continue financing the Palestinian Authority's presidential guard, which is loyal to PA President Mahmoud Abbas, despite the force's disappointing performance in the Gaza Strip, officials in Washington said.
According to a US State Department spokesperson, General Keith Dayton, who is responsible for training the Palestinian forces, will continue his work after a reassessment of the situation. The training will likely be transferred from Gaza to the West Bank, the spokesperson said.
Dayton heads the training program for Abbas' security staff, which protects the Palestinian top brass as well as strategic sites in Gaza and various border crossings.
Although Dayton praised the performance of the forces just a few weeks ago, the troops failed to stand up to Hamas forces in the past few days as they seized control in Gaza.
_______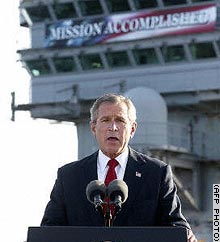 http://www.ynetnews.com/articles/0,7340,L-3413213,00.html
US to help transfer humanitarian aid to West Bank
Sources in Bush administration say Washington will try and convince Quartet to transfer emergency aid to West Bank in bid to maintain Fatah's hegemony there. Washington Post: Takeover by Hamas illustrated failure of Bush's Mideast vision
Baw haw haw haw wanna beit?
Yitzhak
Benhorin
WASHINGTON – The United States is accepting Hamas' takeover of the Gaza Strip and will work to help the Fatah movement maintain its hegemony in the West Bank.
Mission Accomplished
Sources in the Bush administration noted that Washington plans to work together with the European Union on transferring emergency aid to the West Bank, a day after the EU announced that it was suspending all its humanitarian activity in the Gaza Strip due to the escalation in the security situation.

Sent: Thursday, January 26, 2006 11:52 AM

Subject: RE:




Hamas is better. Now we will have the oportunity to through all of them back to Saudi Arabia what was impossible with Fatach.
The official also said that Prime Minister Ehud Olmert will not cancel his scheduled trip to Washington DC this weekend. Olmert's office said on Thursday that the IDF would not take action in Gaza but that the prime minister plans to discuss the recent alarming events in the Strip with US President George W. Bush and UN Secretary General Ban ki-Moon in his meetings with the two early next week.
______
Ta ta da
http://www.ynetnews.com/articles/0,7340,L-3413568,00.html
New rules in Gaza
In wake of Hamas takeover, Israel to tackle Gaza as it does south Lebanon
Fatah has completely collapsed in the Gaza Strip. That was the atmosphere that prevailed in recent days at the top floors of the Defense Ministry headquarters in Tel Aviv. The security establishment experienced a deep sense of frustration over the ease with which Hamas members crushed Palestinian Authority security positions.
Fatah members did not want to, and possibly could not, fight – they had no leadership or a top command. They were just a bunch of gangs. But actually, we knew they were like that all those years yet we deceived ourselves. We wanted to believe we were dealing with serious people.
Up until four days ago there were still those among us who believed that supplying equipment to Fatah members in Gaza could change the picture.
On Wednesday morning, Fatah was supposed to receive from Egypt armored vehicles and some arms. Today, we thank God that the weapons never made it there.
Meanwhile, the Israeli decision is to observe and wait for developments. They decided not to decide. The political situation does not encourage decision-making. They wait for the new defense minister to take office.
Yet within all the chaos, security officials were able to somehow identify a ray of light: Instead of two heads in the Strip, which confused the world and sometimes confused us too, there is only one head. The masks have been removed.
There is no longer Palestinian Authority that enjoys legitimacy and aid and a Hamas movement that takes advantage of that. There is clear return address now: Hamas.
A month ago, the cabinet discussed responses to Gaza Qassam fire. They were talking about the need to respond without undermining the Palestinian Authority's power and about possible international reaction, and agreed on a formula of "phased response" that requires strict approval by the political leadership.
Today, it's a whole new story. The PA is no longer a factor when it comes to considering a response.
For Israel, Gaza equals southern Lebanon and Hamas equals Hizbullah. Instead of producing "phased response" to terror originating from the Strip, Israel needs to produce an arsenal that would establish its deterrent power vis-à-vis the Strip. And because there is a return address, it is possible to utilize pressure levers – both economic and military.
Hamas' military wing disrupted the plan of the political leadership, which intended to take over the street and government institutions in a phased and slow manner, while gaining international legitimacy. The military wing, however, was in a rush. All the latest moves are a story of taking advantages of success rather than an orderly military plan.
In fact, the military wing played into Israel's hands. It exposed to everyone its fundamentalist, pro-Iranian ideology and its brutality. The world is starting to understand where the Palestinian street is heading to. The damage to be sustained by their cause is immense.
Yet Defense Ministry officials are also hearing the warning bells. There are serious concerns that Fatah intends to produce provocations that will force Israel to do the job for it – that is, drag Israel to the Strip so that it hits Hamas.
There are more than just estimations that Fatah intends to shift the flames from Gaza to the West Bank.
The scenario goes like this: Fatah embarks on an all-out confrontation with Hamas in the West Bank, which in turn leads to street riots, which drag the IDF into the West Bank. There is a rise in the scope of terror attacks against Israeli civilians and soldiers.
Meanwhile, Hamas in Gaza would not remain indifferent to attacks on its members in the West Bank and boost the rate of terror attacks and fire from the Strip. Without noticing, the IDF would rush into Gaza to hit the "head of the snake."
This scenario requires the army to be prepared in the face of any attempt to import the Gaza chaos into the West Bank.
all this chaos, we can see a sort of logic to the madness. Hamas is still not ready to cut off the oxygen from Israel and Egypt. If Hamas controls all the border crossings, neither Israel nor Egypt would cooperate with it, and the Gaza population will pay the price. Hamas would not be able to handle a humanitarian disaster of such scope.
So at this time, the Hamas victory is a military win. The movement has not captured the hearts of the Gaza street. It still does not have the street on its side.
http://www.ukar.org/gore10.html
Upon seizing the reins of government, the new Noachide leaders will move quickly to implement a full agenda of reform. ... Full support will be given to Israeli forces to reinvade PLO-controlled areas, with military assistance offered where necessary. Jewish courts ... will be granted full legal sovereignty over Jewish citizens within each country, who will no longer be subject to the authority of gentile courts. The pre-existing Noachide judges and courts will replace the existing court system of each country, and the legal code will be drastically rewritten to conform to halacha.... .... And law and order will be fully restored through the establishment of internal security measures, again in accordance with Torah law. — Committee for Israeli Victory
________

http://www.ynetnews.com/articles/0,7340,L-3413711,00.html

Report: Barak plans Gaza attack

Sunday Times reports new defense minister planning large-scale attack on Hamas in Strip in event of attacks on Israel. Attack to involve 20,000 tro

ops, including armored and infantry divisions; source close to Barak says attack just a matter of time

Incoming defense minister Ehud Barak is planning an attack on Gaza over the next few weeks in order to crush the Hamas gunmen who have taken over the Strip, the Sunday Times reported.

A senior Israeli military source, told the Sunday Times that military action, which will involve some 20,000 troops, would be in response to Hamas Qassam attacks on the western Negev, or renewed suicide attacks on Israel, and should destroy much of Hamas' military capability in a number of days.

________

Sleep Maraka, Sleep

http://www.ynetnews.com/articles/0,7340,L-3413767,00.html

Israel halts fuel supply to Gaza

Gaza chaos leads Dor Alon energy company to discontinue sale of gas to most of Strip, excluding Gaza's power plant. Fuel in Strip expected to run out within a few days; Dor Alon to lose some $120 million

Israeli energy company Dor Alon has halted fuel supply to Gaza, in coordination with the IDF, and following Hamas' takeover of the Strip.

If fuel supply is not resumed within two-three days, all Gaza gas stations will be left without any fuel whatsoever.

Dor Alon will continue to supply fuel only to the Gaza power plant, in coordination with the IDF. The power plant receives about one third of the fuel supplied to the Strip.

In the meantime, supply of electricity to the Strip will also continue.

_____

http://www.ynetnews.com/articles/0,7340,L-3413934,00.html

IDF armored vehicles enter Gaza

Several IDF armored vehicles have entered northern Gaza Strip for defensive actions. This is a routine operation aimed at thwarting terrorist activities.

IDF has reduced activities in the Gaza Strip since the Hamas took over; however, defensive measures are maintained to prevent terrorist attacks on Israel. (Hanan Greenberg

________

Satan has some very sick Children indeed

http://www.ynetnews.com/articles/0,7340,L-3413917,00.html

Israel could be responsible for a disaster, Meretz MK says

Politicians at odds over Israel's response to Gaza crisis. While MK Gal-On warns of humanitarian crisis in Strip, National Union MK Eldad calls on government 'not to send them even one crumb of food'

The State of Israel must not wait for a catastrophe to take place in Gaza, Knesset Member Zahava Gal-On, chairwoman of the Meretz faction, said Sunday.

MK Arieh Eldad (National Union-National Religious Party) believes, on the other hand, that the supplies of food, water and electricity to the Strip must be halted immediately.

Speaking to Ynet, MK Gal-On said that Israel could not evade its responsibility for preventing a humanitarian crisis in the Strip.

"We must immediately transfer food and medications to the Gaza Strip. We cannot allow ourselves to stand aloof. The international law and the laws of morality do not allow us to be indifferent and say 'let the Arabs kill themselves,'" Gal-On said, warning that "in the event of a disaster Israel will be seen responsible, just like what happened in Sabra and Shatila."

Mk Eldad

(Sanhedrin) claimed, on the other hand, that "we must not supply them with even one crumb of food."

He said the Palestinians should look for solutions beyond the border. "The Gaza Strip has a border with Egypt, so they should buy water, electricity, food and medications from Egypt. Instead of smuggling weapons in tunnels, they should use them to transfer food and medicines, especially when food and medications can be transferred openly through the crossings with Egypt."

Eldad slammed the fact although Israel unilaterally withdrew from Gaza, it continued to supply electricity to Qassam-manufacturing lathe-shops.

"Such stupidity is unfamiliar in any violent conflict between a state and a terror organization," he said, calling on the government to immediately cut off the electricity and water supplies to the Strip.

"We must also not transfer the tax funds Israel wants to release to Fatah. Instead of cash, Abbas should receive the equivalent in food and medications," he said.

Mk Danny Yatom (Labor) said that Gaza's residents should not suffer.

"We must transfer to them all the required humanitarian aid. However, we must do that in a way that the goods and food will not pass through Hamas, in order not to legitimize it," he said, adding that Israel should continue supplying water and electricity "until a new evaluation of the situation."

MK Effie Eitam (NU-NRP) claimed that Israel must renounce its responsibility to supply food and infrastructure to the Strip, but do it in a gradual process which will take three to six months.

"An Islamic country has been established in Gaza, which is in our backyard. The country controlling Gaza today is Iran, and from this point we must derive our decisions regarding the humanitarian aid to the Strip," he said.

MK Eitam added that the country which should be responsible of aiding the Strip was Egypt.

"I have no problem if they want to bring food into the Strip by planes or transfer it through UN convoys. I have no problem if the UN wants to supply food through convoys which will pass through Israel. But the responsibility should not be put on us, it should be put on Egypt."

and ITSREALLYHELL should be moved to GERMANY

Former MK Uri Avnery, a member of the left-wing Gush Shalom movement, said that "the situation is outrageous. Israel is committed, according to the Oslo Accords, to open four crossings between the Gaza Strip and the West Bank.

"All the Israeli governments have violated this commitment. Closing the crossing to people for any reason and not letting them reach the West Bank is an inhuman and foolish thing to do from a political point of view."

According to Avnery, "There are no morals and no wisdom here. Years ago we said we would not make peace with Arafat, and then we crushed and destroyed Arafat's rule. Then came Abu Mazen (Palestinian President Mahmoud Abbas), who as opposed to Arafat was considered 'the good guy.'

"He wasn't given a thing and was destroyed. This man did not get the smallest bone during his entire term. And then, when the Palestinian unity government was established, there was an opportunity to negotiate with all the Palestinian people – and instead of taking advantage of it, we destroyed everything."

Avnery called on the Israeli government "to lift the blockade on the Palestinian people, open the crossings and give a condition that we will talk in accordance with the conduct of the government in Gaza. A Palestinian split will be bad for us and will create a situation in which the most radical group will win against Israel – and it won't stop with Hamas."

right, according to the Sanhedrin Hasidic and Bushwhacker scheme

________

http://www.jpost.com/servlet/Satellite?cid=1182409614270&pagename=JPost%2FJPArticle%2FShowFull

Jun. 22, 2007 15:14 | Updated Jun. 22, 2007 16:01
Report: IAF preparing for Iran strike


The Israeli Air Force (IAF) has been training on long-range flights, including refueling in mid-flight, in preparation for potential strikes against Iranian nuclear targets.

The training program has been taking place for some time but has only been released for publication Friday, the Ma'ariv daily reported.

Intelligence assessments received by the defense establishment concur that once Iran passes the point of no return in its nuclear efforts, the entire Middle East will enter a frantic nuclear armament race. Egypt and Saudi Arabia are expected to take the lead should such a scenario become reality.

At the end of 2007 the US and Israel are expected to hold a joint assessment to ascertain the influence of economic sanctions against Iran.

A new package of upgraded sanctions prepared jointly by Israel and the US, includes exerting pressure on European governments to cancel US $22 billion in loan guarantees given annually to European companies trading with Iran.

The headline read "Judea Declares War on Germany - Jews of All the World Unite - Boycott of German Goods - Mass Demonstrations." The article described a ...


The new package also includes sanctions against banks working with Iran, non-renewal of oil infrastructure in Iran and a long series of economic actions that are meant to seriously hurt the Iranian economy.

Following the end-of-year assessment, Washington will decide how to move forward in the struggle against Iran's nuclear race.

Members of the international community - the US and Israel leading - are convinced that Iran's race to enrich uranium is aimed at producing nuclear weapons. The Islamic Republic, on its side, insists it is looking for energy sources that would be an alternative to fossil fuels.

Iran has so far remained defiant in face of the demands voiced by the international community that it make its nuclear program transparent to UN-mandated monitoring.

______

The "War President Commander Guy"

http://www.haaretz.com/hasen/spages/873814.html

Syria: Washington blocking renewal of peace talks
By Yoav Stern, Haaretz Correspondent
Syrian Vice President Farouk Shara downplayed prospects of peace with Israel on Thursday, saying crucial American support was lacking.

In the first official Syrian comments on the matter, Shara said in Damascus: "We are not optimistic. The American president does not want peace between Israel and Syria."

Syria has demanded that the United States resume its sponsorship of the peace process between the two countries and that a Washington envoy participate in official contacts. The Syrians would like to relieve their international isolation. On the other hand, they have emphasized that they do not view the U.S. as a "mediator with Israel."


____
Obedient Goyim rewards doled out
Tons of Help for Gaza, Abbas and the PA

by Hana Levi Julian
(IsraelNN.com) Dozens of trucks carrying tons of food and medical supplies have entered Gaza since the Hamas terrorist organization took over the area. Another 400 tons were transferred via the Kerem Shalom border crossing on Thursday.

Included in the delivery were 130 tons of flour, 50 tons each of rice and sugar, 34 tons of pasta, 33 tons of lentils, 30 tons of margarine, 20 tons of beans, 18.5 tons of barley, 15 tons of chickpeas, 8 tons of powdered milk, 7 tons of astringents, 5 tons of tea, 2 tons of soup and thousands of liters of oil.

Jordan supplied the lion's share of the basics – flour, legumes and oil – and international aid organizations provided the rest, to be distributed by their representatives to Palestinian Authority residents now being ruled by the Hamas terrorists.

Thousands of liters of gasoline, diesel fuel and natural gas supplies were delivered through the Nahal Oz terminal.

Tons of medical supplies were provided as well, and Red Cross surgeons were sent in to add their expertise to doctors working round the clock in Gaza hospitals. Medics also evacuated residents to Israel for specialized medical care.

And that's only in Gaza.
Propping Up the PA in Judea and Samaria
U.S. officials have asked the Congress to restore $27 million in aid, to purchase more arms for PA Chairman and Fatah leader Mahmoud Abbas' personal militia, Force 17.

The Defense Ministry is considering allowing the transfer of thousands of new weapons to Abbas' forces as a "good will" gesture to prop up the new PA emergency government.

Officials explained Friday on Voice of Israel government radio that Abbas needs the weapons to replace the arsenal that was lost to Hamas terrorists who routed Fatah loyalists in Gaza over a week ago. Thousands of weapons and millions of bullets and other ammunition had been shipped to the PA militia by American allies Egypt and Jordan, with Israel's full knowledge and approval.
for their scheme

The government will also transfer most, if not all, of the $700 million that remains of the tax revenues collected by Israel on behalf of the PA but withheld after Hamas won the legislative elections in January 2006.

Prime Minister Ehud Olmert has said he might also agree to dismantle numerous security checkpoints and roadblocks throughout Judea and Samaria as another "confidence building" measure.
Wrong...........the Hasidic Settlers of Chabad and sanhedrin will never allow Aholibah to do this
Strategic Affairs Minister Avigdor Lieberman (Yisrael Beiteinu) objects to providing arms to Fatah. "It has been proven in the past that giving arms and money to Fatah serves to support terrorism," Lieberman said. "Even if we give guns to Abu Mazen, he has no ability and no chance."
The People's Choice
With the PLO backing Abbas in his bid to hold new elections, the latest polls indicate that the most popular leader in the PA is Marwan Barghouti, now serving five life sentences in a Negev prison for murder.

That Barghouti must be released in any prisoner swap deal for IDF Cpl. Gilad Shalit, kidnapped a year ago by Hamas terrorists, is the one point both Fatah and Hamas have agreed on this year.

Barghouti masterminded more than 30 terrorist attacks against Israeli citizens, in which some 35 were killed. Sufficient evidence was found to convict him of only five murders, however. Prime Minister Olmert has said he will not free Barghouti, even at the expense of Shalit's freedom.

But if PA elections were to be held today, Marwan Barghouti would be the people's choice to lead them.
__________
The Treasonous Vipers Must Explain to their foreign masters of ITSREALLYHELL
http://www.jta.org/cgi-bin/iowa/home/index.html
GOP writes AIPAC to explain 'no' vote
The Republican leadership in the U.S. House of Representatives is sending a letter to AIPAC explaining why the party voted against a foreign aid funding bill that includes $2.4 billion for Israel .
The overall funding bill of $34.2 billion for foreign operations passed late Thursday night 241-178, mostly along party lines in the Democratic majority House.
Republicans opposed the overall bill because it restores some funding for contraception aid to overseas groups that provide abortions. Rejecting such funding has been a Republican red line for over two decades.
The Senate has yet to consider its own version of the bill. If the amendment restoring the funding survives the Senate-House conference, President Bush is sworn to vetoing it.
The American Israel Public Affairs Committee lobbied hard for the inclusion in the bill of $2.4 billion in defense assistance for Israel and another $40 million in refugee assistance.
In a P.S. attached to a memo to all Republicans instructing them to vote "no," minority leader Rep. John Boehner (R-Ohio.) adds: "Members are advised that the Leadership has drafted a letter to AIPAC affirming Republican support for Israel funding, not withstanding final passage of this bill. This letter will be available for Members to sign at the Leadership Desk on the floor tonight. A copy of that letter is attached."
Republicans attached mostly symbolic pro-Israel amendments to the bill. One by Rep. Mike Pence (R-Ind.), reaffirming existing policy banning assistance to groups that reject israel 's existence, passed 390-30.
Another, moved by Rep. Ileana Ros-Lehtinen (R-Fla.), also passed. It cuts funding to the U.N. Human Rights Council and to
Saudi Arabia
. The
United States
does not participate in the council, and aid to
Saudi Arabia
has never surpassed $100,000.
_________
Campus Crawlers
http://crownheights.info/
Joshua Runyan - Chabad.edu
Stamford, CT — Speaking at the banquet of the annual conference of Chabad on Campus emissaries Thursday night, philanthropist and international businessman George Rohr announced an historic slate of nine new campus projects, effectively bringing the number of universities served by the Chabad-Lubavitch movement to 130 worldwide.
More than 100 are now in the United States alone.
_______
Jesus didnt say "no" to noahide, HE WAS THE AUTHOR OF IT
COULD IT BE SAMLIQUIDATION IS IN FACT WORKING FOR JEWRY AS A PLANT?...........if so, it WILL be found out and BY ME and you keep your eyes open because you will read it all exposed in the open HERE!. He has already been exposed of having close associations with so called "ex chabadists" and THAT ladies and gentlemen is how enemy dispropaganda is PROPAGANDIZED.
http://www.thelowestroom.com/forum/viewtopic.php?t=655
Pickles "right hand", his god is THE BEAST. Its the SON OF MAN, JESUS "THE KIKE" who has kicked God the father of the throne and sits on it yonder in heaven........THE ABOMINATION THAT MAKETH DESOLATE!) Jason Guenther 34th sideline, Pickering Ontario Canada
Rabbi Yitzhak Ginsburg is more determined. He knows that in the near future the Land of Israel is about to expand. He writes, "It is our duty to force all mankind to accept the seven Noahide laws, and if not—they will be killed." (Ma'ariv, 10/6/04)
http://mauricepinay.blogspot.com/2007/03/chabad-lubavitch-rabbi-to-congress.html
________
Meanwhile in Noahide anti-Christ Russia......
http://crownheights.info/index.php?itemid=6934
Bad For Democracy, But Good For The Jews?
The Jewish Week
Russian Jewish leaders downplay Putin's recent anti-U.S. remarks and praise him for cracking down on anti-Semitism.
Does the return of Cold War rhetoric between the United States and Russia and an ongoing rollback of democratic rights in Russia mean that the Jewish community of Russia is facing the scepter of a return to the bad old days of the Soviet Union?
According to an assortment of Russian Jewish leaders spanning the religious and ideological gamut from the Chabad Lubavitch-affiliated chief rabbi of Russia, Berel Lazar, to leaders of more secular bodies like the Russian Jewish Congress, the answer is an emphatic "No." Russia is not, they say, again becoming an uncomfortable and dangerous place for Jewish to live and work.
Only for the GOYIM as was the case with the RED Sofiet Talmudic bloody revolution

All of the leaders stressed that Russian Jews today enjoy the right to open and operate as many synagogues, Jewish schools and organizations as they like, to participate fully in the life of the country and to emigrate from it. They credit the Putin government with moving quickly in recent years to crack down on individuals and groups that target Jews for defamation and violent attacks.

The Russian Jewish leaders seem inclined to believe that a series of eye-raising remarks by Russian President Vladmir Putin in recent weeks — he accused the United States of pursuing a "unilateralist" foreign policy bent on imposing its "hegemony" on the rest of the world, and on one occasion compared the U.S. to the Third Reich — were mainly attention-getting rhetoric by the Russian president and of little significance.

Putin's purpose, they say, was to give expression to strong feelings among Russians that by expanding NATO into the heart of the former Soviet bloc and by building an anti-missile system in the Czech Republic and Poland allegedly targeted against Iran, the U.S. has not treated Russia with respect.

Yet on the issue of the erosion of democracy in Russia, the Jewish leaders offered more nuanced positions; they argued that while Jews thrive best in a democratic milieu, democracy is not per se a Jewish issue as long as the community is in a position to weigh in with the authorities on issues like anti-Semitism and xenophobia.

In a telephone interview, Rabbi Lazar told The Jewish Week he was elated by a promise Putin made to him during a meeting at the president's home last week to contribute one month's salary to the construction of a Russian Jewish Museum of Tolerance. It was "a strong signal of President Putin's commitment to fight against anti-Semitism and xenophobia,"
of anti-Christ
he said. "People were struck by the fact that this is the first time the president ever offered to donate his salary to any cause."

Rabbi Lazar, who was named chief rabbi by Putin in 2000 and who meets one-on-one with the Russian president three or four times a year, said he is not overly concerned by what he termed "extreme rhetoric" used by Putin against the U.S. in recent weeks. He argued that Putin's shrill speeches should be seen in the context of U.S. policies which, the rabbi said, "failed to pay enough attention to Russian pride."

The rabbi expressed relief at the apparently lowered tension level between Bush and Putin after the recent G8 meeting. At the meeting, Putin put forward a proposal for the two countries to build a joint anti-missile system in Azerbaijan to protect Russia and Europe against a potential missile attack from Iran. According to Rabbi Lazar, "The Jewish community's interest is for Russia to be in understanding with the Western world and with Israel."

Asked whether American Jews should be alarmed about potential dangers for their brethren in Russia at a time when opposition demonstrations are routinely broken up, and the media is ever more tightly controlled by the Kremlin, Rabbi Lazar responded, "Not at all.
however
Rabbi Yitzhak Ginsburg is more determined. He knows that in the near future the Land of Israel is about to expand. He writes, "It is our duty to force all mankind to accept the seven Noahide laws, and if not—they will be killed." (Ma'ariv, 10/6/04)

"American Jewry," he continued, "fought for decades for the right of Russian Jews to be free, and that day has arrived. There has been a great Jewish revival in this country, and President Putin and his government are sincere about giving Jews full freedom."

Asked whether democracy is necessary for healthy Jewish life, Rabbi Lazar responded, "Democracy has no relevance to the work of the organized Jewish community, although it certainly matters for individual Jews. There is a debate on these issues in the Jewish community. Some on the liberal side of the community are unhappy [with the government], but others feel that the present state is much better for the community than the situation in the 1990s.

"Today, there is less corruption, and fewer killings. When acts of anti-Semitism occurred in those days, people were rarely brought to trial, which is no longer the case today."

Nevertheless, Rabbi Lazar believes the best course for Russia would be "a middle way, a golden path between too much freedom and too much control." Asked whether he raised the issue with Putin at their recent meeting, the rabbi responded, "I spoke mainly with him about world politics and Israel, but these issues came up, too. He knows how we feel."

Nikolai Propirny, executive director of Russian Jewish Congress, a mainly secular umbrella body that is the second most prominent Jewish organization in Russia after the Chabad-linked Federation of Jewish Communities of Russia (FEOR), said he was unconcerned about the police breaking up recent political demonstrations in Moscow by opposition groups headed by self-described liberal democrats like former chess champion Gary Kasparov and one-time Prime Minister Mikhail Kasyanov.

According to Propirny, "The reason that the opposition is weak is because it lacks strong leaders, not because of government repression. In any case, why should we take part in demonstrations and get in a fight with the government? We have our own Jewish issues to deal with."

Yevgeny Satanovsky, the outspoken former president of the Russian Jewish Congress who is today president of the Institute for Israel and Middle East Studies, a Moscow-based think tank, is forthright in endorsing Putin's crackdown on democracy.

"A centralized system of power is good. Otherwise, we would likely have an independent Tatarstan and an independent Siberia, and perhaps an independent Moscow fighting independent St. Petersburg."

Satanovsky said, "Whatever else one might say about Putin, he is philo-Semitic and pro-Israel. Maybe Putin's successor will be less friendly than he is, but the main thing is that to be anti-Israel or anti-Semitic is no longer part of acceptable political culture in Russia."

Neither in Maraka the apostate of Dan RED Bushwhacker

Satanovsky predicted, "Despite the present problems, relations between Russia and the U.S. will recover. I believe Russian Jews, who have interests in Russia, the U.S., Israel and Europe, will play a bridging role in all of this. There are Jewish businessmen like [Leonard] Blavatnik, [Mikhail] Fridman and [Viktor] Vexelberg doing enormous business together in both Russia and the West. Blavatnik is a U.S. citizen and the other two are Russian citizens, but collectively they work as a bridge between the two countries."

Babylonain Bridge

Mikhail Chlenov, 66, the Moscow-based general-secretary of the Euro-Asian Jewish Congress (EAJC), an umbrella body encompassing the Jewish communities of the FSU and other East European and Asian countries, as well as president of the Va'ad of Russia, is a liberal secularist whose pedigree in the Jewish and human rights movements in Russia extend back to the 1970s.

Yet Chlenov believes American Jews have an overly bleak impression of what is happening in Russia. "In fact, there is no state-sponsored anti-Semitism today, as existed in Soviet times," Chlenov said. "We are able to raise forcefully with the government issues of Jewish concern, including anti-Semitism and xenophobia."

On the issue of democracy, Chlenov observed, "The paradox of today's Russia is that we see limitations on certain liberties going hand in hand with a growth in living standards."

He noted that Jews are less prominent in groups defending human rights and civil liberties than in the past, pointing both to unhappiness with the leadership of the democratic movement and what he acknowledged is "increased fear by many people to criticize the authorities." In any case, he said, "These are not issues of specific Jewish interest and we have never urged Jews as a movement to become involved in the political struggle."

Mark Levin, executive vice president of the Washington-based NCSJ, said he heard similar defenses of Putin and his policies from unnamed Russian Jewish leaders during a visit to Moscow last month.

Nevertheless, Levin noted, many of the same leaders were not displeased that he and other members of the NCSJ delegation raised concerns about the erosion of democracy during meetings with high Russian government officials.

"The Jewish leaders said to us, 'You can raise issues that we can't,'" Levin said, adding, "While we may not agree with our Russian Jewish counterparts on every point, a strong partnership continues to exist between the Russian and American Jewish communities."

___
Jesus who is and forever the ONLY Everlasting Righteousness


4: For Christ is the end of the law for righteousness to every one that believeth.
5: For Moses describeth the righteousness which is of the law, That the man which doeth those things shall live by them.
6: But the righteousness which is of faith speaketh on this wise, Say not in thine heart, Who shall ascend into heaven? (that is, to bring Christ down from above:)
Hasidim and their Moshiach, that son of Perdition

7: Or, Who shall descend into the deep? (that is, to bring up Christ again from the dead.)
8: But what saith it? The word is nigh thee, even in thy mouth, and in thy heart: that is, the word of faith, which we preach;
9: That if thou shalt confess with thy mouth the Lord Jesus, and shalt believe in thine heart that God hath raised him from the dead, thou shalt be saved.
Not maybe

10: For with the heart man believeth unto righteousness; and with the mouth confession is made unto salvation.
11: For the scripture saith,
Whosoever believeth on him shall not be ashamed.

12: For there is no difference between the Jew and the Greek: for the same Lord over all is rich unto all that call upon him.
13: For whosoever shall call upon the name of the Lord shall be saved.
14: How then shall they call on him in whom they have not believed? and how shall they believe in him of whom they have not heard?
and how shall they hear without a preacher?

15: And how shall they preach, except they be sent?
not ordained by a state sanctioned 501 C3 institution of Satan's religion, BUT SENT BY THE FATHER
as it is written, How beautiful are the feet of them that preach the gospel of peace, and bring glad tidings of good things!
16: But they have not all obeyed the gospel. For Esaias saith, Lord, who hath believed our report?
17: So then faith cometh by hearing, and hearing by the word of God.
18: But I say, Have they not heard? Yes verily, their sound went into all the earth, and their words unto the ends of the world.
19: But I say,
Did not Israel know?
First Moses saith, I will provoke you to jealousy by them that are no people, and by a foolish nation I will anger you.
20: But Esaias is very bold, and saith, I was found of them that sought me not; I was made manifest unto them that asked not after me.
21: But to Israel he saith,
All day long I have stretched forth my hands
unto a disobedient and gainsaying people.

Romans 10:9
9: That if thou shalt confess with thy mouth the Lord Jesus, and shalt believe in thine heart that God hath raised him from the dead, thou shalt be saved.

10: For with the heart man believeth unto righteousness; and with the mouth confession is made unto salvation.

11: For the scripture saith, Whosoever believeth on him shall not be ashamed.
12: For there is no difference between the Jew and the Greek: for the same Lord over all is rich unto all that call upon him.
Wall Street " The Mark" is Here

It has happened "War Declared upon and in America"

"All you ever need to know about their god and Qabalah"

ADDED Material 3-25-2004 Prophecy Unfolding

A Sincere Request to "Rapture" Teachers

Compulsory Constitutional Cremation

Homeland Security, "The Police State"

The Babylonian Talmudic Mystical Qabalah

How will they do it- " The false-christ"

"Summation" The beginning of sorrows has begun

Satan's Tales "Wagging the Global Dog"

"Satan's Plan", Protocols of Zion ( of course they will dispute it's authenticity)

I Witch, New One World Order Seal

Satan's Enforcers of Quaballah

The Seed of God or the Seed of Satan, Your choice by faith

I AM, the Revelation of Jesus Christ

National Organization Against Hasidic International Talmudic Enforcement

Where's Da Plane Boss, wheres da plane?

The Tarot Card Killer of Olam Ha Ba
The Federal Reserve, Fed up with the Fed?
The Protocols Today. Dispute this, Liars !
Letter to a friend "It's not the Jews Dummy"
The "Son's of the Synagogue of Satan"Chabad Lubavitch
The Chabad Satan Wall of Destruction
Columbia "The Queen of Heaven"
The Infiltration of the leaven "Jerusalem Council"
One World Religion Part 7 Religion Part 7
Obedient Ishmael Kislev 19, 5764
The Lord of the Ring, the Return of the Talmudic king
Changing the Time and the Laws
The Leaven of the Chabad Lubavitch Chassidim Pharisees
"Replacement Theology" of Judaic Talmudism
Eating Rainbow Stew with a Silver Spoon, underneath a Noahide Sky
Letter to Bob Jones and President Bush and all televangelist
Noahide News Part 76
ALERT ALERT ALERT
The Revelation of Jesus the Christ the LORD God and His Father
Noahide News Part 143 THE JEWISH RELIGION Its InfluenceToday
Noahide News Part 161
Noahide News Part 168
Alert ! Noahide News Part 169 Alert ! Alert ! false Elijah cometh?
Noahide News Part 170
Noahide News Part 190 Alert ! Alert! Alert!
Noahide News Part 197 Alert Alert Alert !
Noahide News Part 203Alert Alert Alert !
Noahide News Part 204 Alert ! Alert ! Alert!
Noahide News Part 220
Alert ! Alert!
Noahide News Part 222 Alert ! Alert!
Noahide News Part 224 Alert! Alert!
Noahide News Part 227
Noahide News Part 228 Alert! Alert! Alert!
Noahide News Part 230 Alert ! Alert!
Alert ! Alert ! Alert!
Terminated page
The Revelation of Jesus the Christ the LORD God and His Father
Part 340
Jesus said No to Noahide