Bush, Islamic Fascism and the Christians of Jounieh
Bush is on vacation, his favorite place to be during a major crisis. The August retreat is the only open admission he makes that Cheney and Rumsfeld are actually running the country, and he just doesn't need to be in his office. The only difference between his stonewalling of Lebanon and the way he let New Orleans drown is that he has put away the banjo this summer, at least in public view. He had someone tie a necktie on him and stopped manically clearing brush for long enough to come out with Condi and hold a press conference. He lied, saying that no one wants to see the violence continue. He wants to see the violence continue. Otherwise he would insist on a ceasefire. You see, if you don't have a ceasefire, the violence continues. If you oppose a ceasefire, you are saying you want the violence to continue. He does.
Then
he tried to explain the war in Lebanon by saying
this,
'They try to spread their jihadist message -- a message I call, it's totalitarian in nature -- Islamic radicalism, Islamic fascism, they try to spread it as well by taking the attack to those of us who love freedom. '

Rabbi Yitzhak Ginsburg is more determined. He knows that in the near future the Land of Israel is about to expand. He writes, "It is our duty to force all mankind to accept the seven Noahide laws, and if not—they will be killed." (Ma'ariv, 10/6/04)
There are many problems with this passage.
The first is that the Israelis are not confining themselves to bombing Muslim radicals. They dropped 3000 bombs on Aitaroun in a single day.
They are leveling the towns of the south altogether
. They are hitting people who are not Muslim fascists.
In fact, they are hitting
Christian areas such as Jounieh.
in ah ha theyah name ah ha Judeo-Jayssssssooooooooooooooose



(I don't think this bridge is there any more.)

J

Not only have the Israelis bombed out the bridges at Jounieh, destroying the local economy and harming the Christians there, but their air raid on the Jiyye oil refinery has caused an enormous ecological disaster and the ruining of the beach resorts along the coast. So much for Jounieh and its "Islamic fascists."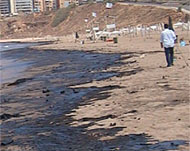 I guess that will show them. (The oil spill also threatens Cyprus and Turkey).

The Israelis have also bombed Ashrafiyah, a Christian area of Beirut. They have ruined Christian businesses-- restaurants, nightclubs, retail shops, by destroying bridges, roads and ports and by killing tourism for years to come.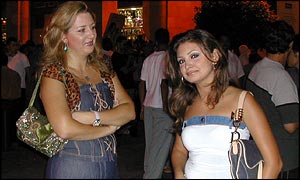 The Syrians, about whom the Bush administration complained so bitterly for their role in Lebanon, had actually protected the Lebanese Christians from the PLO back in the 1970s and never did to them a hundredth of the damage that Israel has now done.

I don't mean to suggest that one should only worry about Lebanon's Christians, who form 40 percent of the electorate.

The Shiite Muslims of the south have been subjected to collective punishment on a mass scale. Whole towns and villages have been destroyed. Nearly a million people are displaced and homeless. The deliberate deportation or forcible transfer of a civilian population during war time is a crime against humanity, as is unnecessary expulsion of civilians from their homes.

Lebanon is a small country, with a population of only 3.8 million. A fourth of the country is homeless! That would be like a disaster that left 70 million Americans wandering around with just the shirts on their backs, living in shelters and schools, wondering where their next bite of food would come from, their homes in rubble, their lives destroyed.
In ah ha theyah name of Judeo-Jaysoose keel em all, huh,.... PAT ROBBERSON?

In other times and places, the authorities in Jerusalem have complained about this sort of thing.

Relatively few Shiite Muslims of Lebanon are fascists of any sort. There are all kinds of Shiites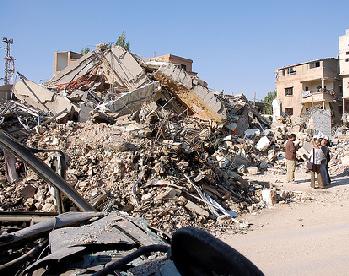 Courtesy this site

Look closely at this AP photo from Monday, captioned "FLIGHT FROM TERROR: A woman runs past a destroyed building, still in flames, after it had been attacked by Israeli warplane missiles, in the southern suburbs of Beirut, Lebanon yesterday." Look at the woman. This is the Shiite "Islamic fascist" that BushMert is making war on?

Then there are other problems with what Bush said. He contrasted "Islamic fascism" to "democracy," presumably a reference to the Lebanese Hizbullah.

This point is incorrect and offensive for many reasons.

It is a misuse of the word "Islamic." "Islamic" has to do with the ideals and achievements of the Muslims and the Muslim religion. Thus, we speak of Islamic art. We speak of Islamic ethics.

There can be Muslim fascists, just as there can be Christian fascists (and were, in Spain, Italy and Germany, and parts of Central and South America; the Spanish fascists and the Argentinian ones, e.g., were adopted by the United States government as close allies.)
the Fascist are the Talmudic Noahide Proselytes of Sanhedrin of Hell, these are the Judeo-Churchinsanity's of the hassidic Sanhedrin unto the dragon, deceived and fallen away just before that son of perdition is "Revealed" are you one of these?