Senate Probes Bolton's Pro-Israel Efforts
By Ori Nir
May 6, 2005

WASHINGTON — John Bolton, President Bush's embattled choice to serve as American ambassador at the United Nations, is widely seen in Washington as a strong supporter of Israel. But recent media reports suggest that his support for the Jewish state goes further than previously believed.
Senate staffers are reportedly probing many allegations regarding Bolton's management style, including claims that Bolton took part in unauthorized meetings with Israeli officials and prevented a State Department memo accusing Israel of violating American arms-export laws from reaching the desk of then secretary of state Colin Powell.
Two weeks ago, with opposition toward Bolton mounting, the Senate Foreign Relations Committee postponed its vote on the nomination.
Bolton, the State Department's top official on arms control, is known as a strong supporter of Israel's position that Tehran is coming alarmingly close to being able to weaponize its nuclear material. He gained the respect of pro-Israel activists in 1991 when, as assistant secretary of state for international organizations, he masterminded and steered the successful initiative to repeal the U.N. resolution that equated Zionism with racism.
According to a report in U.S. News & World Report, senate staffers are investigating suspicions that Bolton, in his current position of under secretary of state for arms control, shelved the memo suggesting that Israel violated American laws with its July 23, 2000, assassination of Salah Shehada, a senior Hamas activist in Gaza City.
Israel's air force used an American-made F-16 bomber to drop a one-ton bomb on a house in a densely populated part of Gaza, where Shehada was staying. The bomb killed him, as well as 14 civilians, and injured more than 100 people. According to U.S. News, several offices of the State Department, including the Bureau of Near Eastern Affairs and the legal office, issued a report saying that the attack represented a violation of America's Arms Export Control Act, which prohibits American weapons from being used for nondefensive purposes.
Bolton reportedly disagreed with that judgment, and had officials draft a "split memo" for Secretary of State Colin Powell presenting both positions.
Late one evening, U.S. News reported, Bolton recalled the report, just as it was about to make its way to Powell's office, and allegedly replaced it with a new memo. That memo supposedly did not mention the assessment that Israel may have violated American laws. As a result, Powell never learned that some of his staffers disagreed with Bolton, officials told U.S. News.
Another allegation that Senate staffers are reportedly investigating is that Bolton routinely arranged meetings with officials from foreign countries without first notifying the State Department offices responsible for relations with the countries. Israel is on the shortlist, together with Russia, Britain and France.
Former State Department officials, who told The New York Times about Bolton's alleged practice, reportedly characterized it as unusual and as a violation of departmental procedures.
In Israel, Bolton reportedly met with officials of the Mossad intelligence agency without seeking "country clearance" from the State Department's Office Bureau of Near Eastern Affairs.
______
http://www.propagandamatrix.com/articles/may2005/040505potentialfraud.htm


Major WTC Insurance Company Questions Building 7 Collapse As Potential Fraud
A proposal by a small shareholder to withhold approval from the Board of Directors for failure to investigate signs of insurance fraud on 9/11 has been published on the website of the Allianz Group, one of the world's largest insurers, in preparation for its May 4th annual meeting.
(PRWEB) May 2, 2005 -- Allianz Group published a shareholder proposal on April 20th faulting management for ignoring signs of insurance fraud on 9/11/2001. Allianz carried a significant portion of the insurance coverage on the WTC, and stands to pay a corresponding portion of the $3.5 billion payout currently being litigated in New York. In his proposal, shareholder John Leonard, a California native and a publisher of books on 9/11, pointed to reports that building WTC 7 apparently collapsed by demolition, and for no plausible reason related to the 9/11 attacks. Management replied that it relied on official US government reports which made no mention of such evidence.
The Allianz Group is incorporated in Germany and has approximately 570,000 shareholders. Under German Stock Companies law, publicly held companies are required to publish shareholder proposals that meet certain criteria.
The text of the shareholder proposal, which may also be viewed at the Allianz website, http://www.allianzgroup.com/azgrp/dp/cda/0,,100646-49,00.html, is reproduced below.
+++
Countermotion (Shareholder Proposal) to the General Meeting of Allianz AG to be held May 4th, 2005
From Shareholder:
John-Paul Leonard,
P.O. Box 126,
Joshua Tree, California 92252

Re: Agenda Item 3, Approval of the actions of the members of the Board of Management, I propose that approval not be granted.
Re: Agenda Item 4, Approval of the actions of the members of the Supervisory Board, I likewise propose that approval not be granted.
Reasoning:
The managing and supervisory boards have taken a passive attitude toward the insurance claims and the suspicious aspects of the WTC insurance loss.
The investigation of insurance losses and insurance damage claims against the Company is naturally one of the chief duties of the management of every insurance firm.
The WTC catastrophe was doubtless one of the biggest insurance incidents in history. A significant portion of the multi-billion dollar loss is expected to be borne by Allianz.
Numerous observers and researchers find the WTC case very suspicious. For example, in a public opinion survey, 49.3% of respondents in New York City agreed that "some of our leaders knew in advance that attacks were planned on or around September 11, 2001, and that they consciously failed to act." [Source: www.zogby.com/news/ReadNews.dbm?ID=855.]
When this belief is so widespread among unrelated parties, haven't the affected insurance companies ever asked whether perhaps the US Government instead of the insurers is responsible for the damages, or whether the possibility of insurance fraud has been investigated?
From reports in the media about the trial in New York between the insurers and the insured WTC leaseholder, no sign of such motions has been made public. The dispute has been mainly over the question, whether to pay out $7 billion or "only" $3 billion, whereby the shareholders are supposed to be relieved at the latter sum as a victory of the "lesser of two evils."
Nor has there been any lack of critical and analytical voices in Germany. Several books in the last few years have posed sharp questions to the official WTC scenario. In 2003, Deutsche Welle published an article entitled, "9/11 Conspiracy Theory Books Dominate Debate at Frankfurt Book Fair." (www.dw-world.de/dw/article/0,1564,993523,00.html .)
Anyone who is interested can quickly obtain similar materials from the Internet free of charge, as well as continuing researches of the background of 9/11 by independent journalists.
Two German-American writers, Jim Hoffman (www.wtc7.net) and Eric Hufschmid, have contibuted greatly to the theory of the dynamiting of the Twin Towers and Building WTC-7. Hufschmid's work was translated and published in German (www.painfulquestions.de). They claim that never in history has the structure of a steel building ever been destroyed by fire, and that on the contrary, the evidence points to a controlled demolition. I could find no evidence to gainsay their thesis anywhere.
WTC-7, as is well-known, was never struck by airplanes, and photographs of it show only insignificant fires ( www.globalresearch.ca.myforums.net/viewtopic.php?t=523 ). Nevertheless, the 47-story building at WTC 7 suddenly collapsed at around 17:28 on 9/11/2001. This fact was not even mentioned in the report of the official 9/11 commission. (www.9-11commission.gov/report/911Report.pdf )
How can an insurer take such an extreme case simply and casually as business as usual?
There is plenty more such evidence that would be useful in the billion-dollar lawsuit, which every citizen with an Internet connection can confirm. Why aren't Allianz (and the other insurers) able to?
When the managing and supervisory boards take no action to join the investigation of a case as huge and notorious as the WTC, how are the shareholders to know that other cases, too, for whatever reason, are not paid out without being properly investigated?
There is already a private lawsuit against US government officials in connection with the events of 9/11, see http://www.911forthetruth.com.

________

No Disengagement, no Olso II, No secular zion of Judah and Sharon
for the Sanhedrin of the Hassidim of Chabad Lubavitch are in Firm Control of the entire Globe unto their god of their flesh world....the Dragon, who is not god

http://feeds.bignewsnetwork.com/redir.php?jid=b4bfd3bb35b31849&cat=f81a4d9d561822ee
Israel Freezes Handover of Towns

JERUSALEM May 4, 2005 — Israeli Defense Minister Shaul Mofaz said Wednesday he is freezing the handover of West Bank towns to Palestinian security control because the Palestinians have failed to honor their promise to disarm militants.
the Double cross of ISREALHELL, they must stir ISHMAEL against the west. Hang on for a wild ride apostate "Amaraka"
Mofaz spoke during a meeting of Israel's Security Cabinet, and his comments were reported by participants speaking on condition of anonymity.
________
http://www.jta.org/index.asp
Air Force harassment probed
The U.S. government launched an investigation into charges of religious proselytizing at the Air Force Academy.
The Pentagon is sending investigators to look into 55 complaints in which religious discrimination was alleged, including one in which a Jewish cadet allegedly was told the Holocaust was revenge for the death of Jesus. All students and staff at the academy now are required to take a religious tolerance class following allegations of religious harassment, including anti-Semitism.

Now remember......
http://www.cnn.com/2003/ALLPOLITICS/10/28/mission.accomplished/
White House pressed on 'mission accomplished' sign
From Dana Bash
CNN Washington Bureau
Wednesday, October 29, 2003 Posted: 9:18 AM EST (1418 GMT)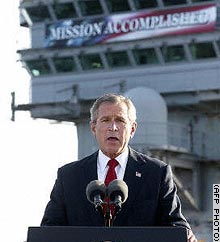 President Bush addresses the nation from aboard the USS Abraham Lincoln on May 1 with the banner in the background.
WASHINGTON (CNN) -- What was once viewed as a premier presidential photo op continues to dog President Bush six months after he landed on an aircraft carrier to declare "one victory" in the war on terrorism and an end to major combat operations in Iraq.
Attention turned Tuesday to a giant "Mission Accomplished" sign that stood behind Bush aboard the USS Abraham Lincoln when he gave the speech May 1.
________